This month, we're travelling within to find out what's hidden under the surface of your skin…
How hard is your skincare routine really working to slow down signs of ageing? We think it can do better. Just saying. While topical treatments are all-stars at addressing surface-level issues, why stop there?
In this post, we'll be exploring:
The deeper layers of your skin: What's happening underneath?
What treatment options you have available
What to expect (during and after treatment)
The Deeper Layers of Your Skin: What's Happening Underneath?
Heads up! Feel free to skip this section and go straight to the treatment recommendations. Otherwise, get comfy for an anatomy lesson!
Your face changes shape as you get older. This happens because of two things: Fat in the face losing volume and fibroblasts becoming "lazy". Let's break that down, shall we?
Fat in the face
Although it may not sound like it, the fat in your face is your skin's super supportive best friend. When you're young, this fat works behind the scenes to make sure your skin always looks its best and that everything is where it should be. This translates to skin that's smooth, tight and youthful-looking, i.e. the dream. As you age, however, this fat loses volume. Like a balloon slowly deflating, the surface of your skin starts to become more and more pliable. So features that were once smooth and plump, now start to fold and drop.
Fibroblasts
Studies show that when skin is #blessed with this youthful, fatty support system, fibroblasts are stimulated. Why is this connection so important? Fibroblasts are cells which produce collagen and elastin, i.e. they promote the skin's own healing process. This relationship between fat pockets and fibroblasts explains why, as we age, the fibroblasts become "lazy". What does this mean for your skin, exactly? Over time, repetitive facial expressions, such as frowning, will eventually start to manifest themselves as wrinkles.
The good news is, there are treatment options available that go deep to slow down the signs of ageing. Here are Dr Alek's top 6 treatment recommendations. Dive right in!
Dr Alek's Treatment Recommendations
#1 Dermal Fillers
Dermal fillers have come a long way in the last decade. With the arrival of new fillers designed to treat specific areas, our approach changed: from blurring lines to being able to restore balance and harmony in the face.
The below before and after photos are proof of what can be achieved by restoring the fatty pads and placing the filler at the correct level. Here, Dr Alek achieved a natural effect (even in a younger patient), as well as a lifting effect of the facial structures.
Areas treated with dermal filler: temples, cheeks, melomental fold, chin and jawline
Below, one can clearly see how the lifting effect of the left eyebrow created more symmetry, as well improved the cheek contour, redefined the chin and enhanced the jawline.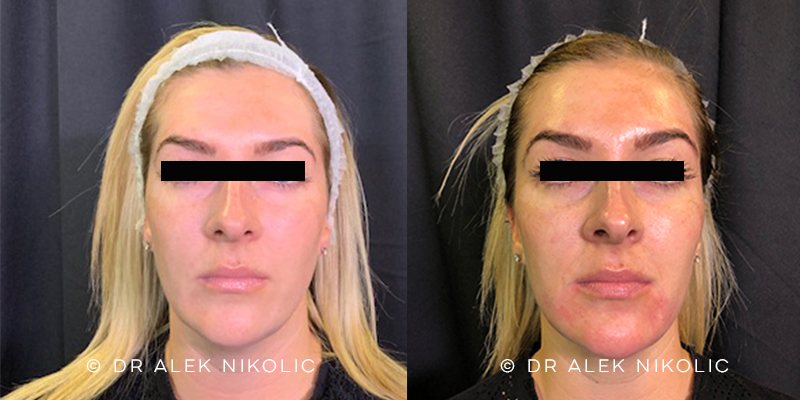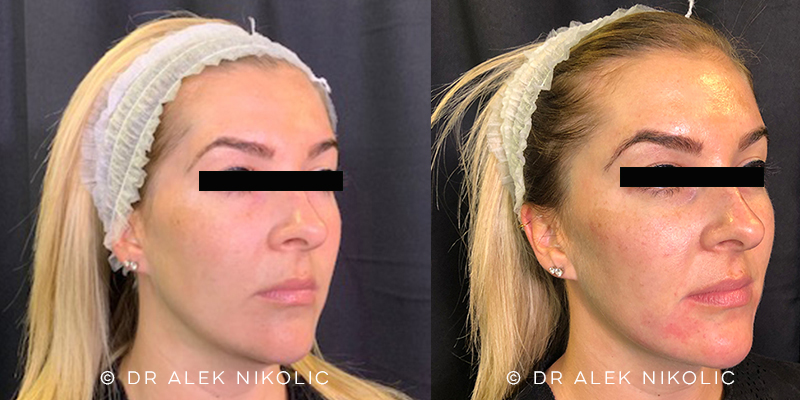 #2 Neurotoxin Wrinkle Treatments
Botulinum Toxin has a bad reputation – queue the Dr Spock impressions – but we stand by our recommendation. When done correctly, neurotoxin wrinkle treatment injections are your best bet at diminishing wrinkles.
Today, these injections come in all shapes and sizes. We can even tailor your treatment according to ethnic or cultural differences!
Each Botulinum Toxin experience is unique. For the most natural end result possible, we carefully select the number of units as well as which muscles to inject.
#3 Dermapen
The Dermapen is a member of the collagen induction therapy family. Dermapen treatments delve deep into your skin and are designed to create a safe, healing response within your body. The result of microneedles penetrating the skin at specific depths is an inflammatory effect. In this case, inflammation is a good thing because it sends an emergency signal to your cells to start producing new elastin and collagen.
Another benefit of the Dermapen is that it assists in creating microchannels. These enable your skin to carry up to 80% more active ingredients! To take this benefit to the next level, we recommend adding a Dermapen-specific topical retinol.
You can expect to see a difference after just one session, however, we recommend a course of 6 treatments (at 6-weekly intervals).
What to expect post-treatment:
Healthier, tighter and brighter skin
Refind pores
Reduced wrinkles
No harsh side effects
Minimal downtime
A hot, almost sunburnt feeling
Redness and inflammation which subsides within the first 24 hours (request a medical-grade makeup cover to assist with this)
Small, red marks for 2 to 5 days (cover these with your own makeup)
#4 Chemical Peels
We're firm believers in the benefits of a light, superficial chemical peel treatment. Even though they're technically still medical peels, they won't leave you red or your skin flaking or sloughing after the treatment.
At our practice, we love using Skin Ingredients (sk.in), NeoStrata, Dermaquest, Lamelle, and SkinCeuticals peeling systems. The choice between these systems is dependent on your skin type and concern, as well as the results you'd like to go home with.
What to expect post-treatment:
No downtime
Instant, healthy glow
Gentle exfoliation
Hydration
#5 Fractional Skin Resurfacing
Numerous fractional devices exist but they're all guided by the same basic principle: Energy is used to create microchannels of inflammation in the skin, which in turn stimulates the skin's healing process, i.e. collagen and elastin production.
That said, something you should be aware of is that post-inflammatory pigmentation can be a side effect of some fractional laser devices. That's why we love our bipolar radio frequency fractional skin resurfacing applicator so much. It allows us to safely treat all skin types – no fear of pigmentation in sight.
We recommend a course of 3 treatments (at 4-weekly intervals).
What to expect post-treatment:
The reduction of fine lines and wrinkles
Improved texture and clarity
A hot, almost sunburnt feeling
Redness and inflammation which subsides within the first 24 hours (request a medical-grade makeup cover to assist with this)
Small, red marks for 2 to 5 days in a grid-like pattern (cover these with your own makeup)
#6 Retinol
There is one ingredient found in topical products which deserves special mention: Vitamin A or Retinol (granactive retinol, hydroxypinacolone retinoate, and retinol palmitate). Think of it as a trusty sidekick in your fight against fine lines and wrinkles.
Trust us. You want these depth-defying treatments in your skincare line-up!
Yours in skin,
The SkinMiles Team