Dr Alek Nikolic Reviews Three Important Studies
See clinical evidence that demonstrates the effectiveness of Blemish and Age Defense Serum
SkinCeuticals have revealed 3 important studies that demonstrates the skin benefits of using SkinCeuticals Blemish and Age Defense Serum and why we should all add it to our skin care regimes.
See the Before & After Photos with real people using SkinCeuticals Blemish & Age Defense Serum and Dr Alek Nikolic's short 1 to 2 minute video reviews of the three studies demonstrating the skin benefits of Blemish & Age on ageing, acne and post-inflammatory hyperpigmentation.
Specifically Blemish & Age has been shown to have three major skin targeting solutions:
Adult Acne Defense
Post Inflammatory Hyperpigmentation Defense
Ageing Defense
New evidence revealed that the Blemish & Age Serum is a targeted technology skin product that is specific to ageing skin that is prone to blemishes, pigmentation, pigmented marks and acne. Interestingly acne affects 25% of all adult men and 50% of adult women. Unfortunately, our skins during these outbreaks is more prone to developing scars, ongoing blemishes, increased oiliness, and post inflammatory dark marks or hyperpigmentation.
[quote author="Dr Alek Nikolic"]"Looking at the 3 clinical studies the SkinCeuticals Blemish and Age Serum is an ideal addition to everyone's skin care regime. Applying the serum with a few drops every time will dramatically improve skin tone and texture, improve fine lines and reduce the appearance and number of dark pigmented marks."[/quote]
I have summarised each of the important clinical studies in point form below for easy reading but you can also watch the 3 videos on each study in the Video Tab Section above.
[message]Adult Acne Defense: Journal of Drugs & Dermatology March 2013[/message]
8-week dermatologist-controlled study
50 subjects: Male and female, multi-ethnic; Ages 25-50; Subjects used Blemish + Age Defense, Blemish + Age Cleansing Gel, and Blemish + Age Solution twice daily
Results:
blackheads reduced by 58%
papules reduced by 45%
clogged pores reduced by 48%
pustules reduced by 65%
total lesions reduced by 50%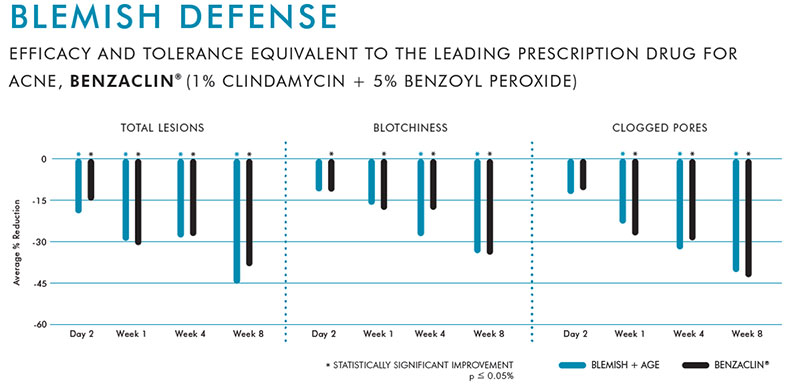 [message]Post Inflammatory Hyperpigmentation[/message]
8-week dermatologist-controlled clinical study
59 subjects: Male and female, multi-ethnic; Ages 18-40; Skin types II – V with mild acne and combination-oily skin; At least 50% of subjects with post-inflammatory hyperpigmentation
Protocol: Subjects applied Blemish + Age Defense twice daily
The support regimen: basic cleanser (Phebo Soap) and sunscreen (Physical Fusion UV Defense SPF 50) to effectively evaluate the efficacy of the test products alone
Results:
PIH grade improved by 36%
Number of PIH marks reduced by 29%
[message]Ageing Defense: Journal of Drugs & Dermatology June 2012[/message]
Blemish + Age vs. Tretinoin 0.025% methodology:
Split faced, double-blind, dermatologist controlled 8-week study on 30 multi-ethnic subjects
Patients applied Blemish + Age on half face twice daily, tretinoin once nightly on the other
Subjects also used SkinCeuticals Simply Clean, Daily Moisture, and Ultimate UV Defense SPF 30
Results:
skin tone improved by 45%
fine lines improved by 28%
skin roughness improved by 46%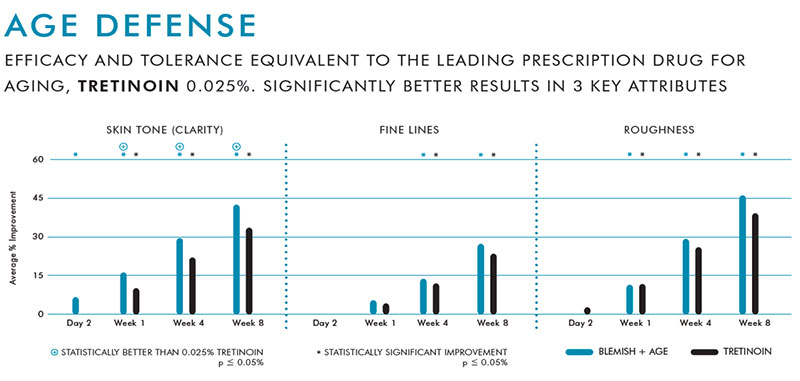 Conclusion:
Blemish + Age Defense gives all of us a targeted solution for both Acne and Ageing skin concerns as it has the ability to exfoliate the skin to improve uneven skin tone, reduce the appearance of hyperpigmentation, and reduce oiliness by 28% with only one week of use.
I hope you have found the above article interesting and helpful especially when choosing the best treatment for acne, skin blemishes and skin ageing changes. If you need any further advice, please feel free to email me directly dralek@skinmiles.com or take our Face2Face Online Skin Consultation and you will get a personal skin care regime for your skin.
Kind regards