Dr Alek introduces the skin care brand Dermaquest and gives a quick highlight of all the products in the range and their specific uses.
SkinMiles is the first online store in South Africa to become official stockists of the Dermaquest range of skin care products. Here is a quick run down of the brand Dermaquest and their skin products.
Dermaquest offers luxury skin care rich in botanical stem cells, peptides and vitamins, with hydrating and protective ingredients that are vital for maintaining skin integrity. With a comprehensive line of collections catering to the most sought-after skin desires, Dermaquest uses the precise amounts of active ingredients and delivery systems to achieve unparalleled results, leaving your skin youthful, bright, clear and radiant.
Welcome to the world of unparalleled skincare, where Dermaquest strives to be nothing less than visionary. Since 1999, we have been leaders in advanced skincare technology, formulating products with the latest and most luxurious ingredients. Dermaquest were among the first to put the powerful properties of peptides, micronized zinc and glycolic acid to use. Today, Dermaquest chemists alone are at the very helm of innovation, unearthing the peerless benefits of plant stem cell technology.
Dermaquest formulas are already renowned for their effectiveness and superior quality, which in turn became our priorities: to boldly craft the most impressive skincare line possible. We are paraben and cruelty-free.
Dermaquest's current portfolio targets the most demanding of skin care conditions and consists of professional peel treatments and homecare products that offer comprehensive solutions to skin concerns. Due to the range's highly effective ingredients and the need for recommendation based on skin types and conditions, Dermaquest is physician only and is currently stocked in some of the leading aesthetic clinics in South Africa.
Dermaquest Essentials Collection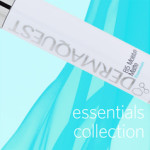 'Healthy skin is beautiful skin'
The Essentials Collection delivers the nourishment, protection and balance that your skin deserves. Brimming with vital enzymes, vitamins, minerals and nutrients, these core products will revitalize any skin type, and effectively prepare skin to address specific concerns with at home products doctor prescribed skin care products.
SkinMiles online Essentials Range Includes:
DERMAQUEST ESSENTIAL B5 HYDRATING SERUM: Lightweight hydrating serum, delivering immediate, luminous moisture, essential for all skin types
DERMAQUEST ESSENTIAL B5 MOISTURE MATT: Crafted to hydrate while keeping your complexion balanced and beautiful, this oil-free blend uses the anti-inflammatory powers of Lilac Stem Cells, leaving skin pacified, softened and shine-free
DERMAQUEST ESSENTIAL DAILY CLEANSER: An ultra-gentle cleanser that instantly removes dirt, makeup and impurities from the skin, while Papaya and Pineapple extracts provide gentle exfoliation to purify and polish for a clear and fresh complexion
DERMAQUEST ESSENTIAL MOISTURIZER: A lusciously hydrating moisturiser, crafted for everyday use. MDI Complex® and Matrixyl™ will refine texture and smooth fine lines, ensuring that your skin is supple, taught and silky
DERMAQUEST ESSENTIAL SOLAR MOISTURIZER SPF30: Shields skin from harmful UVA and UVB rays with an infusion of plant-based extracts, peptides and antioxidants
DERMAQUEST ESSENTIAL STARTER KIT: Four-piece kit from DermaQuest's Essential collection and is a great introduction to the Essential range or as a travel kit
DERMAQUEST ESSENTIAL STEM CELL REBUILDING COMPLEX: Strengthens aging skin, fortifying epidermal resilience while it stimulates collagen production and cell proliferation for tighter, more toned with free of fine lines and wrinkles
DERMAQUEST ESSENTIAL YOUTH PROTECTION SPF 30: This moisturizing 100% physical sunscreen is light enough to wear under makeup, while Zinc Oxide and Titanium Dioxide work hard to protect your skin from harmful UV rays
DERMAQUEST SHEERZINC SPF 30 NUDE, TNNED & SUNKISSED: Available in three luscious shades for sheer coverage. This sunscreen packs a powerful punch. Zinc Oxide and antioxidants combine to create broad-spectrum protection against both UVA and UVB rays
Sense and Sensitivity
We all deserve a little pampering. Whether you've always had finicky skin, or simply have environmental sensitivities, the Sensitized Collection was specifically formulated to care take and purify even the most sensitive skin. With a gentle cleanser, silky moisturizer and a calming serum, delicate and tender skin can be nourished and refreshed without stripping essential oils.
SkinMiles online Sensitized Range Includes:
DERMAQUEST DELICATE CLEANSING CREAM: Gentle creamy cleanser that purifies your sensitive skin without stripping essential oils or over drying
DERMAQUEST DELICATE DAILY MOISTURISER: Softening and calming, this gentle conditioner indulges and strengthens distressed skin in need of comfort
DERMAQUEST DELICATE SOOTHING SERUM: A replenishing serum designed for post-treatment use and for calming sensitive skin
Moving Forward
If your skin is in need of an extra boost, the products in the growing Advanced Therapy Collection were crafted to be special additions to your personal home care regimen.
SkinMiles online Advanced Therapy Range Includes:
Luxury never gets old.
Dermaquest's dazzling Stem Cell 3D Luxury Collection boasts all of the brilliant discoveries we've made as the leaders in plant stem cell technology. With a complete 3D Ritual, you'll be immersed from head to toe in our most transforming and enchanting formulations, crafted to renew, repair and refine your skin with lavish intensity. Leave no stone unturned. Rejoice and indulge in the power of Dermaquest.
SkinMiles online Stem Cell 3D Range Includes:
The years will be kind.
The diverse capabilities of peptides make the Peptide Vitality Collection a miracle for aging skin. Imbued with the strength to prevent and overpower collagen breakdown, paired with their unique ability to plump and smooth, peptides are capable of filling fine lines and wrinkles from within the skin. An incredible advancement in skincare, available from Dermaquest in unique, potent blends.
SkinMiles online Peptide Vitality Range Includes:
For a clear forecast.
The DermaClear Collection was formulated to combat the many stages and types of acne. Whether you're prone to breakouts or simply need to correct a spot now and then, Dermaquest offers a variety of products blended to prevent, quell and alleviate the myriad symptoms of acne.
SkinMiles online Dermaclear Range Includes:
DERMAQUEST DERMACLEAR BHA CLEANSER: Expel your pore and acne concerns with our phenomenal cleanser as dirt, oil and debris are crisply washed away
DERMAQUEST DERMACLEAR CLEANSER: Specially formulated with Mandelic Acid, this cleanser is ideal for all stages of acne, yet is particularly beneficial for breakouts
DERMAQUEST DERMACLEAR PADS: Delivers powerful acne-fighting and soothing ingredients in a convenient pad
Vibrant beautiful you.
The C Infusion Collection boasts the unparalleled powers of BVOSC, a potent yet gentle, stable form of vitamin C. With abilities to give rise to glowing, vibrant skin, this collection promises to energize and enchant. Imbued with Orange Stem Cells, our antioxidant rich blends scavenge free radicals while tightening and evening skin. Let your skin bloom with these nourishing, brilliant formulas.
SkinMiles online C Infusion Range Includes:
DERMAQUEST C INFUSION CLEANSER: Overflowing with antioxidants this foaming cleanser purifies and preserves while slowing the effects of harmful free radicals
DERMAQUEST C INFUSION EYE CREAM: Specifically developed with Orange Stem Cells and Hyaluronic Acid Filling Spheres™, deeply hydrates and improves skin's luster
DERMAQUEST C INFUSION SERUM: Uses extra-active BV-OSC and Orange Stem Cells, known to gently tone and tighten, while protecting skin from harmful free radicals that cause fine lines and wrinkles
Lighten up.
We crafted the SkinBrite Collection to banish dark spots, under eye circles and hyperpigmentation concerns through the powers of brightening botanicals and the latest in illuminating ingredients. Don't be left in the dark, our SkinBrite line evens skin tone and brightens for a luminous you.
SkinMiles online SkinBrite Range Includes:
DERMAQUEST SKINBRITE CREAM: Lightweight and moisturizing, this brightening cream uses Chromabright™ and BV-OSC to help fade pigmentation and quell melanin for an even, glowing skin tone
DERMAQUEST SKINBRITE EYEBRITE: Blend of Madonna Lily Stem Cells and antioxidants lift dark circles on the surface while curative peptides work as the saviour beneath your skin to calm puffy, tired eyes