What Can You Use and What You Should Avoid
Read Dr Alek Nikolic's guide on safe and unsafe ingredients and skin care products during pregnancy and breast feeding
[quote author="Dr Alek Nikolic"]"I was recently asked by a friend what ingredients are OK during pregnancy and which ingredients are not OK in skin care products and strangely enough I also received an email earlier this week asking about the safety of 2 specific NeoStrata products during pregnancy."[/quote]
[message]I thought these are great questions and very important ones as most of us are aware what we should not take orally when one is pregnant but due to the increased number of active ingredients in doctor only prescribed products what is safe and what is not safe can be a daunting and unsure territory for most moms to be.[/message]
Upfront I have to state that most creams, lotions, ant-ageing crams and serums are safe through pregnancy and will not harm your baby but there are a few ingredients that we do need to avoid. See my guide below on what is safe and what is considered not safe and should be avoided even if you are breastfeeding.
What To Avoid
I have written a lot about retinoids and in fact use it on my own skin and recommend it to all of my patients that see me in my cosmetic practice. Retinol or vitamin A is an amazing ingredient to rejuvenate the skin and you can find all the in depth articles and quick reference guides on retinol here.
This is one ingredient we need to avoid in our skin care regime during pregnancy and breast feeding.
[quote author="Dr Alek Nikolic"]"Studies have shown that high doses of vitamin A during pregnancy can be harmful to an unborn child. Oral retinoids used as an acne treatment are known to cause birth defects. If you are pregnant and have been using a retinol based cream do not worry as retinol in its topical form has not been proven to cause any problems but because of the link to the oral form it is highly recommended not to use it in your skin care products (as doctors we just like to be cautious)."[/quote]
Common Retinol Names:
Differin, Retin-A, Retinoic acid, Retinol, Retinyl linoleate, Retinyl palmitate
Salicylic Acid
Salicylic acid is derived from aspirin which s contra-indicated during pregnancy. Salicylic acid is used to treat certain skin disorders such as acne and it can be found in a number of skin products including cleansers, moisturisers, and toners. It is sometimes referred to as BHA or betahydroxy acid and is a popular chemical peel ingredient.
Common Salicylic Acid Names:
Salicylic acid, Beta hydroxy acid, BHA
Important Fact:
Not all acids are unsafe during pregnancy so Alpha hydroxy acids, sometimes listed as AHAs, glycolic acid, or lactic acid, are all safe.
Soy
Our natural tendency is to think that natural ingredients will be safe so it may come as a surprise that soy in skin care products should be avoided. Soy per se will not harm the baby but evidence has emerged that soy can aggravate the pigmentation known as Melasma (or mask of pregnancy). Oil of bergamot has also been linked to this form of pigmentation and can also be found in several natural skin care products.
Common Soy Names:
Lethicin, Phosphatidylcholine, Soy, Textured vegetable protein (TVP)
Important Soy Note:
If you have dark skin or melasma then avoid these products
[message]During the first trimester of pregnancy hormonal changes (especially oestrogen) can cause some women to experience acne breakouts. If this happens then my advice would be to see an aesthetic medical practitioner with a special interest in acne or your dermatologist who can recommend treatments that are safe during pregnancy.[/message] Low dose salicylic acid in a face wash (less than 2%) is considered safe but there are numerous acne treatments (including over the counter) that should be avoided.
Common Acne Treatment Names:
Beta hydroxy acid, BHA, Differin (adapalene), Retin-A, Renova (tretinoin), Retinoic acid, Retinol, Retinyl linoleate, Retinyl palmitate, Salicylic acid, Tazorac (Tazarotene), Tretinoin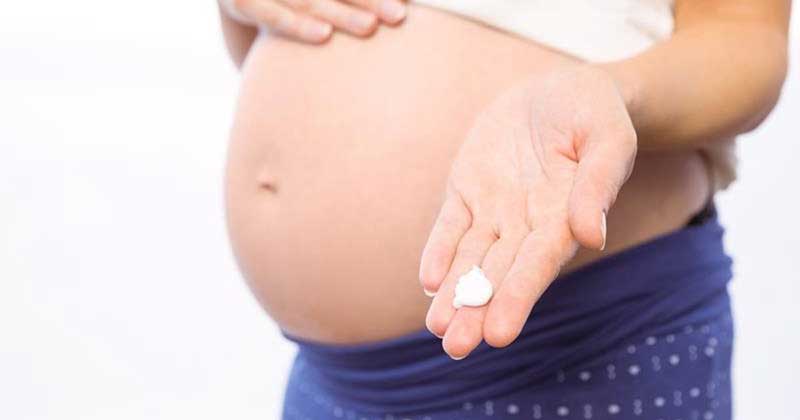 Considered Safe
Hair Removers
The only down side of the products is that they may sensitise the skin during pregnancy so do a test patch first before applying it to larger areas. Overall hair removal products are considered safe during pregnancy.
Most sunscreen ingredients are safe during pregnancy including zinc oxide and/or titanium dioxide. However the following ingredients should be avoided:
Chemical sunscreens: Avobenzone, homosalate, octisalate, octocrylene, oxybenzone, oxtinoxate, menthyl anthranilate and oxtocrylene
As added precaution remember to use a hat and sunglasses when getting exposed to the sun.
Makeup
These are safe and will not affect the health of your baby however some cosmetics that contain retinol or salicylic acid (found in some makeup for acne-prone skin) need to be avoided. See the list of retinol names above.
[quote author="Samantha Nikolic"]I hope you have found the above article beneficial and insightful and that it will help you avoid the 'dangerous' ingredients during this happy time. Please feel free to send me comments or any questions you may have with your skin care regime.[/quote]
Kind regards
Samantha Nikolic
Recommended reading:
References: