Ingredient Focus: N-Acetyl Glucosamine by Dr Alek Nikolic
A review of new clinical and safety data to support the use of N-acetylglucosamine for anti-aging skin care
Introduction:
We have decided to focus on our current special promotion pack from NeoStrata (NeoStrata Company, Inc. located in Princeton, NJ) which consists of dermatology developed skin care collections recommended and highly regarded by skin care experts around the world. We are proud to partner with NeoStrata and supply their skin care products at SkinMiles.
As with any clinical study things can get technical so I have decided to list in point form the most important features and benefits of this ingredient so that it is easier for all of us to acquire the most important facts. So what is N-Acetyl Glucosamine, where do we find it, how does it benefit our skins and what are the exact changes we will see when using this ingredient? I will answer all of these questions in the article below.
Why Use N-Acetyl Glucosamine?
The use of Alphahydroxy Acids (AHAs) has developed into a major ingredient technology for anti-aging and for other therapeutic skincare treatments such as chemical peels over the past decade.
[quote author="Dr Alek Nikolic" bar="false"]"Polyhydroxy Acids (PHAs) such as N-Acetyl Glucosamine has evolved from AHA technology offering similar anti-aging benefits as AHAs but with added benefits for sensitive skin and as such is a great ingredient for anyone trying to achieve healthier, smoother and plumper skin "[/quote]
N-Acetyl Glucosamine Proven Benefits: 
A reduced sensory irritation
A reduced discomfort
Increased skin plumping
Increased skin smoothing effects
Increased fine lines and wrinkle reduction
[quote author="Dr Alek Nikolic" align="left" width="300″]"This is a great ingredient to add to one's skin care regime especially through the winter months where most of us experience some form of drying and are in need of extra moisturisation, plumping and improved health of our skin cells."[/quote]
Recent trends in skincare have embraced 'non-acid' technology, while still demanding the beneficial effects on skin that have been achieved with the use of AHAs. One new approach in the development of novel ingredient technology utilizes sugar (saccharide) derivatives and naturally occurring amino sugar derivatives to provide anti-aging effects to skin. N-acetylglucosamine is one new compound that is being investigated for use in skin care.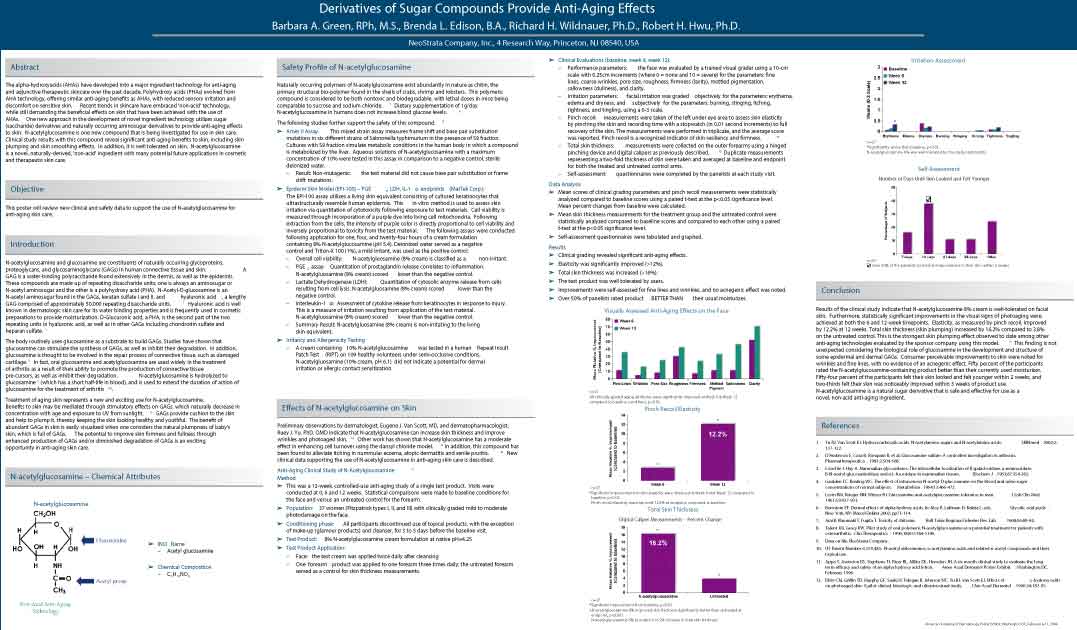 [quote author="Dr Alek Nikolic" bar="false"]"Clinical study results with this compound reveal significant anti-aging benefits to skin, including skin plumping and skin smoothing effects. In addition, it is well tolerated on skin."[/quote]
N-acetylglucosamine is a novel, naturally-derived, 'non-acid' ingredient with many potential future applications in cosmetic and therapeutic skin care.
[message color="blue"]
Summary Of Study Results:
Well tolerated on facial skin
Significant improvements in the visual signs of photo aging were achieved at both the 6 and 12-week time points.
Elasticity improved by 12.2% at 12 weeks
Total skin thickness (skin plumping) increased by 16.2%
Improvements to skin were noted for wrinkles and fine lines
Fifty percent (50%) of the participants rated the N-acetylglucosamine-containing product better than their currently used moisturizer
Fifty-four percent (54%) of the participants felt their skin looked and felt younger within 2 weeks
Two thirds felt their skin was noticeably improved within 3 weeks of product use
[/message]
See the promotion on N-Acetyl Glucosamine: NEOSTRATA ESSENTIALS PACK FOR ANTI-AGEING AND HYDRATING
My View:
[quote author="Dr Alek Nikolic"]"If your skin reacts to 'acids' (including both or either alpha hydroxy and beta hydroxy acids) then this ingredient should be your choice to achieve skin anti-ageing effects"[/quote]
I hope you found the above article focused on the ingredient N-Acetyl Glucosamine helpful and beneficial and please feel free to send me any questions or concerns you may have with your skin care regime or skin concerns.
Kind regards
Dr Alek Nikolic
For The Academics Out There:
[quote author="Dr Alek Nikolic" bar="false"]"I am aware that some of us need a more in depth and academic approach so this part is especially for you"[/quote]
[message color="blue"]
N-acetylglucosamine and glucosamine are constituents of naturally occurring glycoproteins, proteoglycans, and glycosaminoglycans (GAGs) in human connective tissue and skin. A GAG is a water-binding polysaccharide found extensively in the dermis, as well as the epidermis.
These compounds are made up of repeating disaccharide units; one is always an amino sugar or N-acetyl amino sugar and the other is a polyhydroxy acid (PHA). N-Acetyl-D-glucosamine is an N-acetyl amino sugar found in the GAGs, keratan sulfate I and II, and hyaluronic acid, a lengthy GAG comprised of approximately 50,000 repeating disaccharide units.1 Hyaluronic acid is well known in dermatologic skin care for its water binding properties and is frequently used in cosmetic preparations to provide moisturisation. D-Glucuronic acid, a PHA, is the second part of the two repeating units in hyaluronic acid, as well as in other GAGs including chondroitin sulfate and heparin sulfate. 1 The body routinely uses glucosamine as a substrate to build GAGs. Studies have shown that glucosamine can stimulate the synthesis of GAGs, as well as inhibit their degradation. In addition, glucosamine is thought to be involved in the repair process of connective tissue, such as damaged cartilage.2 In fact, oral glucosamine and acetylglucosamine are used widely in the treatment of arthritis as a result of their ability to promote the production of connective tissue pre-cursors, as well as inhibit their degradation. N-acetylglucosamine is hydrolysed to glucosamine3 (which has a short half-life in blood), and is used to extend the duration of action of glucosamine for the treatment of arthritis 4-5. Treatment of aging skin represents a new and exciting use for N-acetylglucosamine. Benefits to skin may be mediated through stimulatory effects on GAGs, which naturally decrease in concentration with age and exposure to UV from sunlight.6 GAGs provide cushion to the skin and help to plump it, thereby keeping the skin looking healthy and youthful. The benefit of abundant GAGs in skin is easily visualized when one considers the natural plumpness of baby's skin, which is full of GAGs. The potential to improve skin firmness and fullness through enhanced production of GAGs and/or diminished degradation of GAGs is an exciting opportunity in anti-aging skin care.
[/message]
Need More Info?
Further Reading & Recommended In Depth Articles:

For More Skincare Advice:
See Our Full Treatment Product List From NeoStrata: please click here
Dr Alek Nikolic's Top NeoStrata Picks:
The above article was referenced from a study published by NeoStrata Company, Inc.
Derivatives of Sugar Compounds Provide Anti-Aging Effects.
Barbara A. Green, RPh, M.S., Brenda L. Edison, B.A., Richard H. Wildnauer, Ph.D., Robert H. Hwu, Ph.D. NeoStrata Company, Inc., 4 Research Way, Princeton, NJ 08540, USA